Three weeks before the wedding, I suddenly turned to the beau and exclaimed: "Oh, shit! We're gonna need signs and stuff!"
The beau looked at me. "Shit," he said.
True dat.
We needed signs. A food menu sign. A bar menu sign. Signs for the table seating charts. Signs for the dessert table. Table name signs. Signs for the guestbook table. And so on.
Now, here's where I developed a condition that could only be retroactively diagnosed as General Anxiety Regarding Prettiness and Details and Logistics Disorder (GARPDLD).1 How big did the signs need to be? Should they all maintain a similar look and feel? What should that look and feel be? Chalkboard or print? How to frame them? Huh? Huh? Oh god we are going to pick the wrong thing and we are all going to die and the wedding will be ruined.
We had a tense moment one afternoon when I pulled all our empty frames2 out of the closets and laid them in the middle of the living room floor and proceeded to talk at considerable length with the beau about what he thought of using them for the wedding. Sample conversation:
Me: "So what do you THINK?"
Beau: "I don't know! They are all fine. I don't really care."
Me: "… but how do you FEEL about them?"
I finally decided, with very little help from the beau thank you very much, that no, these wouldn't do at all. So then we went on a tense trip to Aaron Brothers to look at their frames, but they were all too expensive and confusing. Needless to say, things were getting… tense.
Then, something snapped. I must have inadvertently swallowed a chill pill or eaten some kind of magic wedding mushroom that caused me to just not care anymore. I decided — BAM! — we'd use chalkboards for the menus and as one of the guestbook props.3 I decided — BAM! — we'd go out and find plain and inexpensive photo frames in which to put the guest seating lists. I decided — BAM! — something else. I don't entirely remember that period of time anymore. I probably decided to have a drink. Yes, that must have been it.
For the bar menu sign, I salvaged a large (roughly 16×20″) pale greenish frame from an old painting the beau's parents had given us. For the guestbook prop, I dug out an 8×10″ ugly gold ornate monstrosity I'd found abandoned on the sidewalk down our block, and spray painted it a nice turquoise for no reason other than that was the color of available spray paint that I liked best. Then, for the dinner buffet menu, we found a 12×18″  black wooden frame in a thrift store for $3. We ripped out the fine artwork — a thoughtfully illustrated poem dedicated to an outhouse — it contained, and threw it away. I know. I don't know what we were thinking, either.
Having carefully measured the interior dimensions of the frames, we went to our local hardware store and had them cut pieces of 1/8″ masonite down to size. Then we covered the masonite in a few coats of chalkboard paint, and stapled them inside the frames. Here they are, put to good use: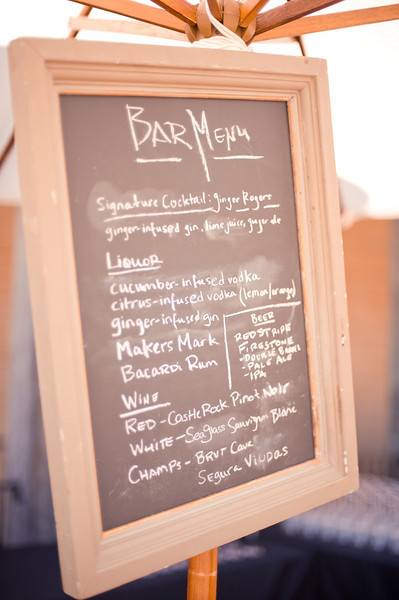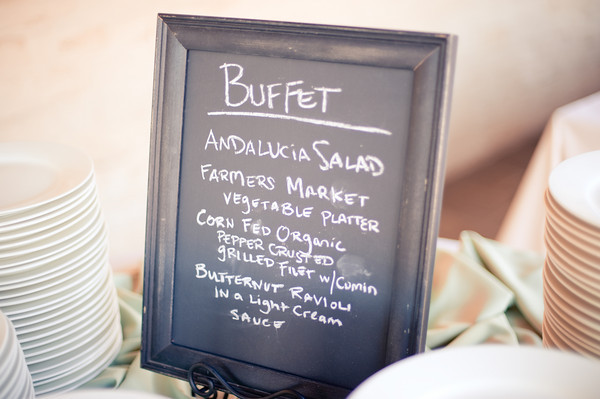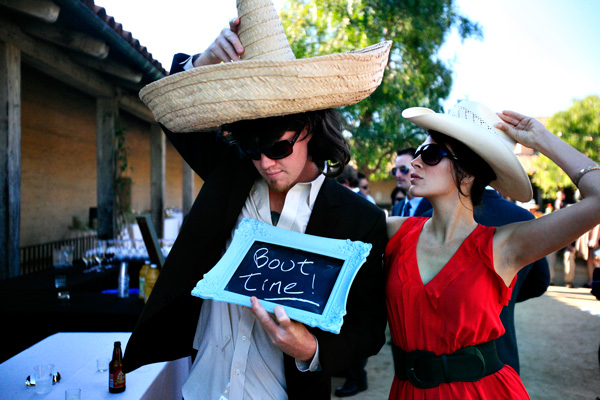 My brigadier was the one who kindly wrote out the bar and dinner menus out on the chalkboards. Here's a bonus shot by one of our guests of (part of) the menu sign in action: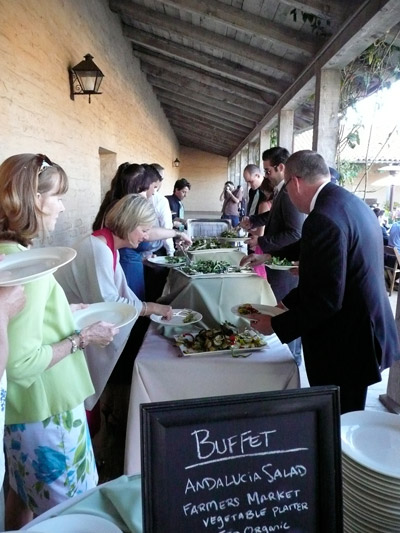 As for the guest seating, we went so far as to assign them tables, but not specific seats. We found some 8.5×11 metallic diploma frames on sale at Target, which ended up working really well, because all we had to do was print out the seating list for each table on letter-sized paper and slap it inside a frame. The ones we sorta liked were a brushed silver color, but Target tragically did not have enough of them in stock. So we got two extra black ones, because we just. Did. Not. Want. To. Think. Anymore. These frames really didn't go with anything else in the wedding, but if you'll recall my special magic wedding mushrooms, I was past the point of caring. Metallic! Wood! Antique! Modern! Black! Silver! Turquoise! Whatever! Hell, let's do it all!
Here's a shot of a table with many of the aforementioned signs at work during the wedding. Over to the left you can kind of make out the metallic frames in question. We ended up only needing to use one black frame, so we put our head table seating list inside of it, so that everyone would know we were Very Special Indeed.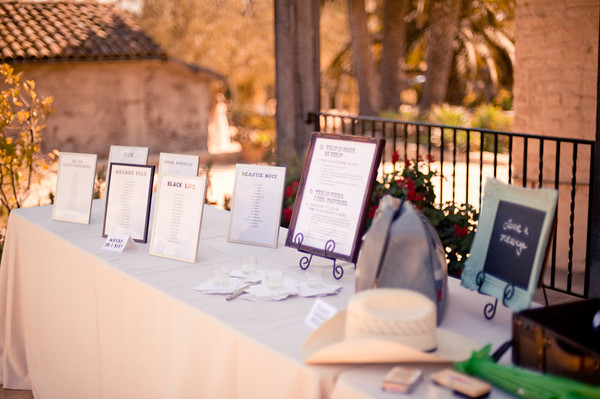 The last thing I did, quite literally two days before the wedding, was make the table name signs and the other assorted labels that we needed. At first I waffled a bit on the table name signs, thinking that we needed to buy mini chalkboards to "go" with our bigger chalkboards. But then another part of my brain said: gurrrrl, pshhht. It was a fair point. So we got some basic metal card holders to display the printed table names instead.
For the sake of ease, I made it so that the table names were half the size of a standard letter-sized sheet of paper (5.5×8.5″), and that the dessert signs were half the size of the table names (4.25×5.5″). I fretted briefly over how to display the dessert signs, but then the beau said, "Why don't we just print them on cardstock, fold them in half, and stand them up like little tents?" Brilliant, beau. I knew there was a reason I was marrying you.
So it was fairly simple. I used a variety of the same fonts we used on our invitations, we had a copy shop print them on cardstock and trim them, and then we folded the labels over like tents. Done. See, look: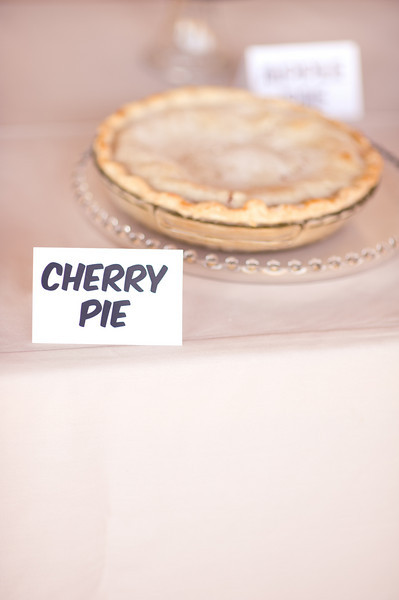 We had a multitude — dare I say a plethora — of various desserts, so we needed signs for them so that people would know what they were getting into. Unfortunately, we don't have many pictures of them in use, so I guess you can use your imagination for the rest of them (Hint: they look just like the above! Except with different names and in different fonts!). In think they're kind of cute for being half-assed. Then again I think a lot of it is because Christina Richards is an awesome photographer.
And here are our table name signs, replete with holders:
For those of you wondering just what the hell "Arcade Fire" is about, we decided to name our tables after bands we like who we'd seen play live. This is a great idea in theory, but a poor idea in execution. Really, it would have made more sense if we'd put in the show date and venue in smaller type below the band name. In fact, that's what I'd originally intended to do, but when I went to make these signs I just completely forgot. My brain was scrambled eggs by this point. Like, old rubbery scrambled eggs that have been left in the pan too long and now they kind of have that weird skin. Yeah.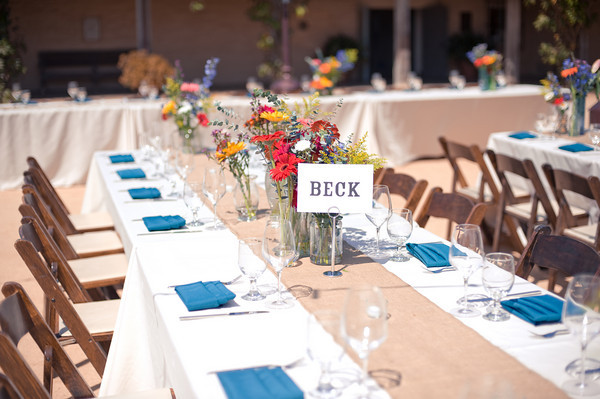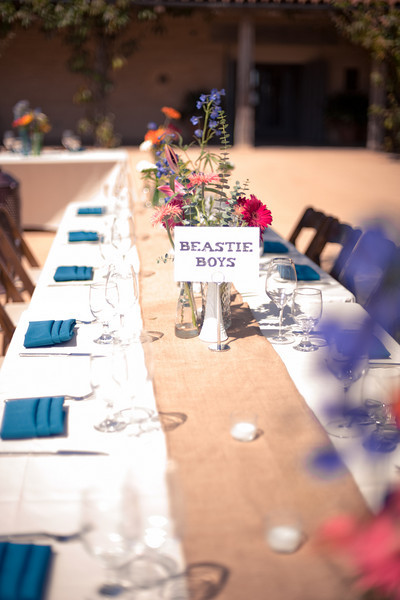 That's it, kids. I'll be back later with MOAR.
All photos by Christina Richards, except for the third one by Aaron Rosenblatt, and the fourth one by a guest.
___________________________________________________
1 It was, how shall I say, a recurring condition throughout the wedding planning process.
2 Yes, I have this problem where I buy frames I love on sale and then never put anything in them.
3 More to come on that later.