So. The guestbook. We didn't have one in the traditional sense. But we also did have one! We did and we didn't! At the same time! Oh, my god. I think a seam in the universe was ripped.
We knew from the start that we didn't want a book that people simply wrote in. I just couldn't really see our future selves ever bothering to pour a big glass of wine, pull that kind of guestbook down off the shelf, and snuggle up for a night of reminiscing over our guests' signatures. Because even if they DID write a personal note next to their names, I knew that 9 times out of 10 it would be something generic like "Congratulations!" I knew that because I've been that guest. I mean, come on. You just walked into the reception. You may or may not have already been handed a drink. You've spotted someone you haven't seen in a while over in the corner. You're on the spot. What are you going to do? Scrawl the first thing that comes to mind and flee. Like I said: I've been that guest before.
So we didn't want a regular guestbook. We wanted a creative guestbook. Which: sounds easy, right? Like maybe I'll just go to Amazon, conduct a search for "creative guestbook," and toss that thing in my virtual cart. DONE, right? Except not so much. For months, I was stumped. Months and months. I was crazy about Bowie Bride's Mad Lib guestbook, but at just a couple of weeks before the wedding my brain was starting to disintegrate, and the thought of coming up with a storyline and printing out the sheets of paper was too much to deal with. And I probably would have just copied Mouse's idea for a wish tree (sorry, Mouse) and used that as our guestbook if I'd heard about it before our wedding, but… I didn't. All of a sudden my indecision was catching up with me and I was getting desperate. I just wanted to figure it out already, dammit.
And then, just like that, the beau had an idea. An idea that incorporated our desire for a photobooth with our need for a "alternative" guestbook: why not get an instant camera and let the guests take photos of themselves and sign them? Hmmm. Why not, indeed?
Once we had ironed out the details and addressed some questions (how will we make sure guests know what to do, how do we make sure guests don't waste all the film before everyone has their turn, and so on), we researched and bought the Fujifilm Instax 210. We settled on it mainly because 1) the prints featured a large white border upon which guests could write, and 2) it was one of the cheapest instant camera options. We paid almost $200 for the camera and additional packs of film on Wal-mart's website. I am not normally the hugest fan of Wal-mart but it was the best deal we could find, and besides, weddings are anything but normal. And at that point in the planning process I could barely hear myself think over my coping mantra, which went something like I DON'T CARE WHAT IT IS OR WHERE OR HOW WE GET IT AS LONG AS IT'S DONE.
Here's a list of the supplies we gathered for the setup:
The camera, extra packs of film, and extra batteries.
Archival pens and archival notecards, in case someone felt inspired to write something that required more space than the border of a photo.
A sign explaining the situation. Read the full text of the sign here.
Props: a mullet wig, a cowboy hat, a giant sombrero, a paper umbrella, a plastic flower lei, and three pairs of cheap aviator sunglasses. We got some props from a friend, the sombrero for $5 at a thrift store, the aviator sunglasses for $9 on Amazon, and we already had the mullet wig and lei.
A container in which to store the props, which ended up being a small antique suitcase that we borrowed from a friend.
A container in which guests could drop their photos and notecards, which ended up being a retro bowling bag that we borrowed from a friend.
Labels so that everything was clear.
So. How did it turn out? I'll let you see for yourself: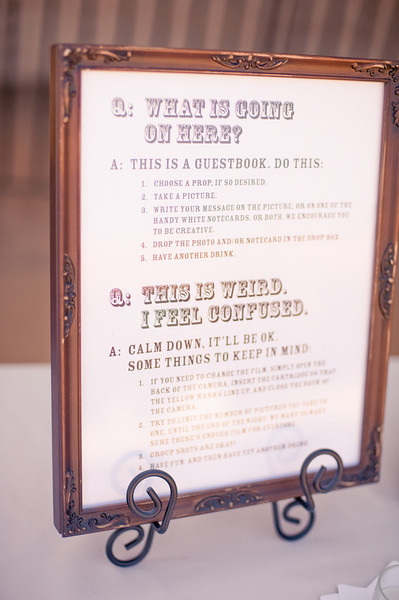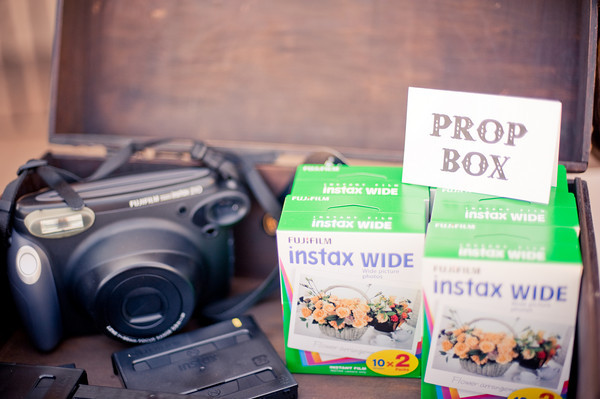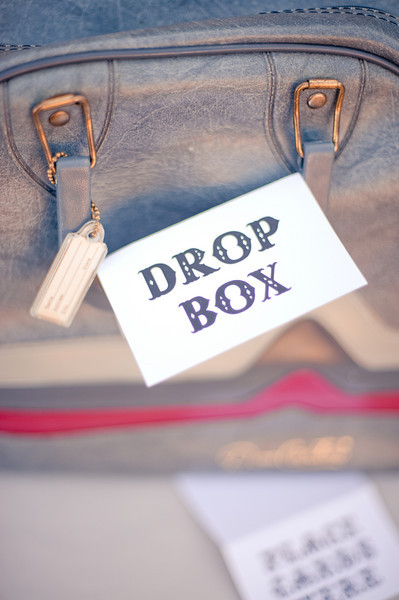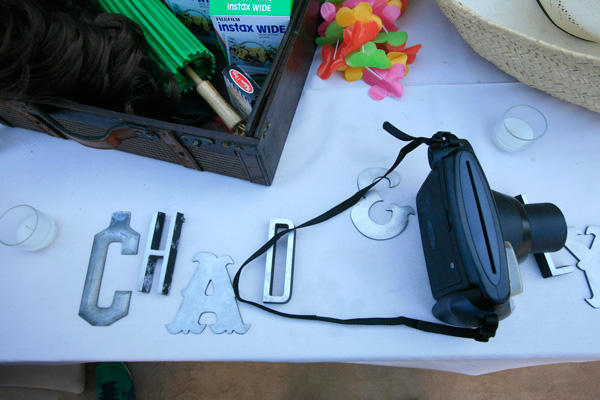 And here are some shots of what happened when the guests got their hands on these things.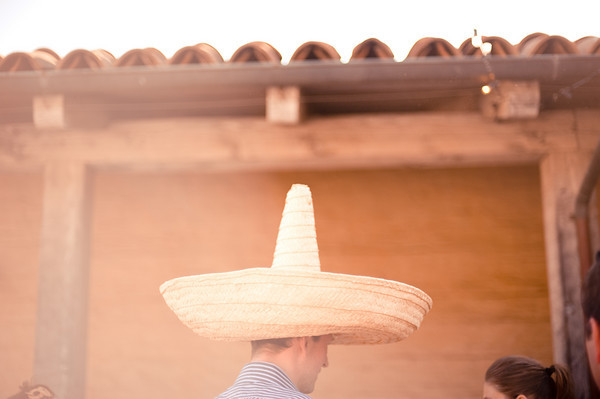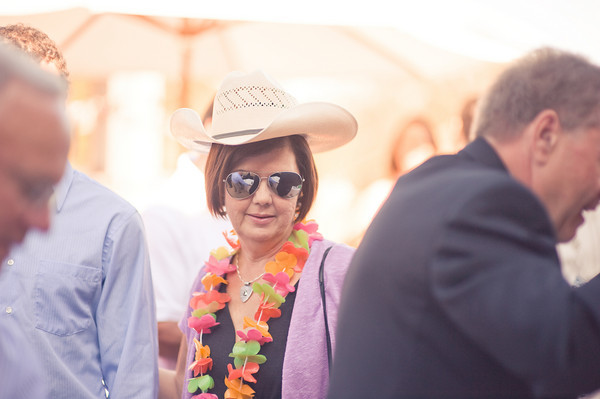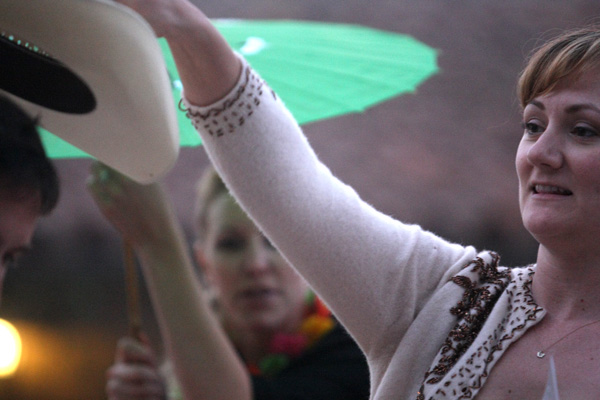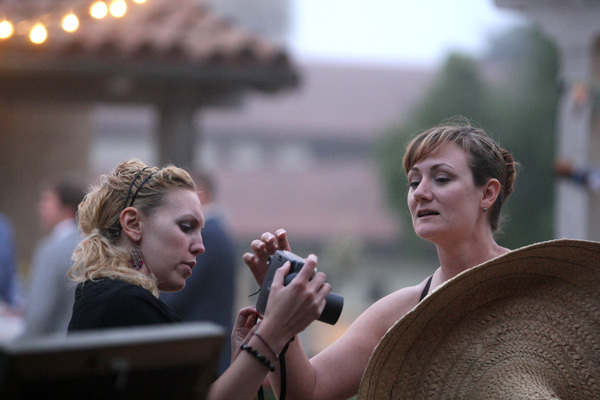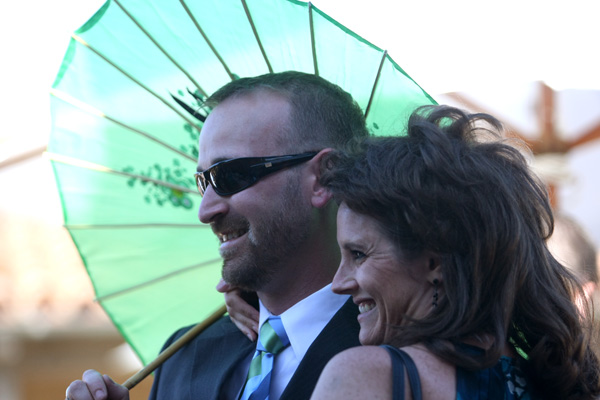 Things that worked about this guestbook:
We got to see photographic evidence of our guests having fun when we weren't around.
Guests were enthusiastic about the process and had fun.
People actually used the props. Like, REALLY used them. A lot.
Guests actually used the props when they weren't even taking pictures. Especially when it was later at night. And they had been drinking. Kind of like this: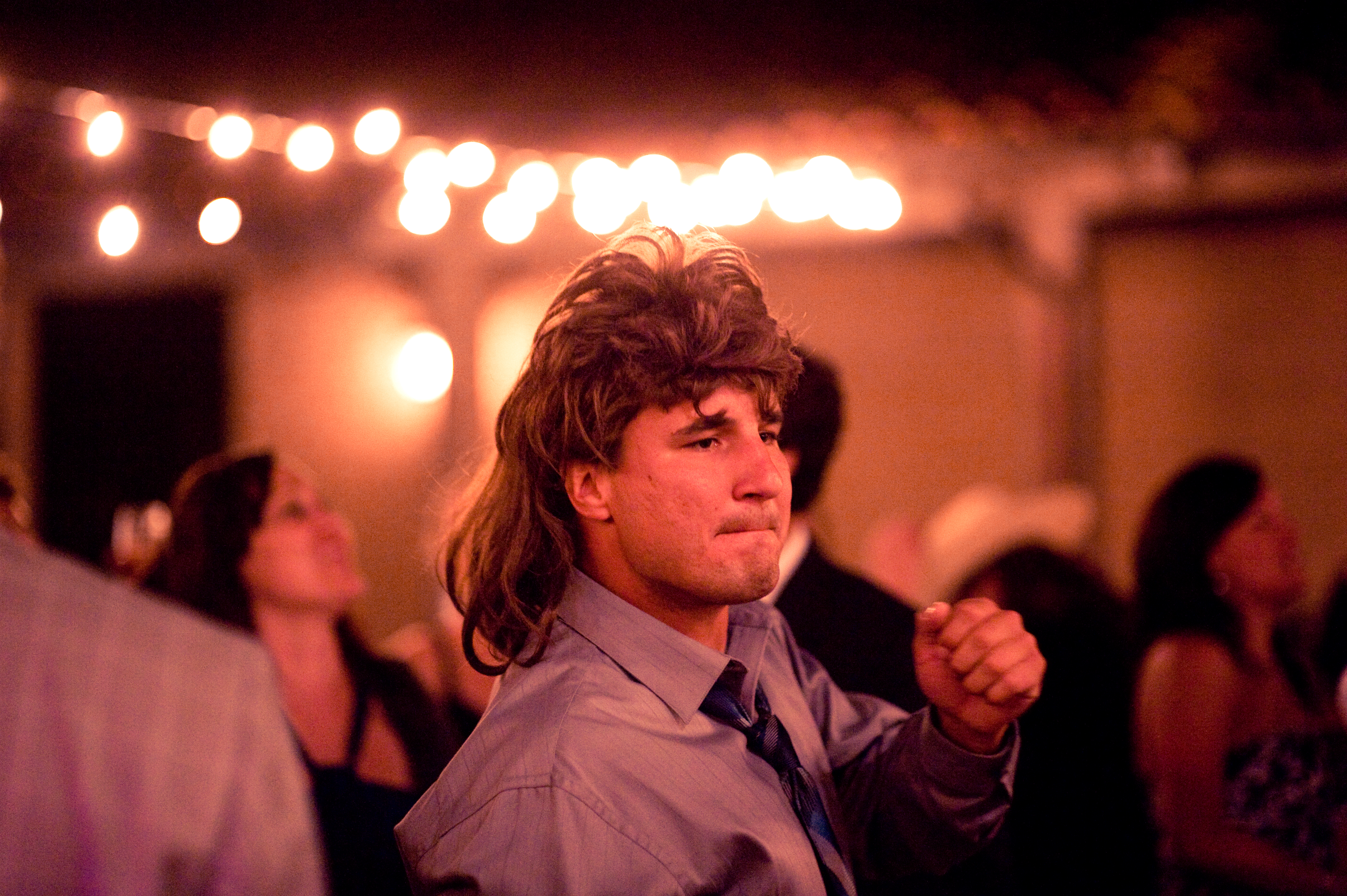 BUT. There were also things that didn't work so well about this guestbook:
Not everybody participated. Nearly everybody did, but my side of the family in particular were standing in a clump at the opposite end of the courtyard, and I didn't have the presence of mind at the time to encourage them to go over and make sure they "signed" the guestbook. Yeah. Hardly a travesty, but I could have handled it better. I could have perhaps had the DJ make an announcement or something, you know?
Maybe it's because the sign urged them to conserve film so that everyone got a chance to have their photo taken, but we put like six 20-packs of film out — the equivalent of 120 prints for about 95 guests — and we got half of them back. People really took that note to heart, I guess. Here's where I wish, again, that I would have handled it better. I wish I would have thought to check in on the amount of film we had left later in the night and encourage our friends to use it up. Think of the photos we could have gotten!
The notecards we put out were pointless. We got maybe a grand total of three back. Everyone wanted to write on the photos themselves. Which leads us to the biggest drawback about our guestbook…
The pens. The pens. We went and got archival pens so that the writing on the photos wouldn't fade over time, so that we could tuck our guestbook photos away in an archival album and have them forever. And these particular pens? They did not like the glossy surface of the prints. Instead of preserving the writing for years to come, this ink immediately smudged and made the writing illegible. See?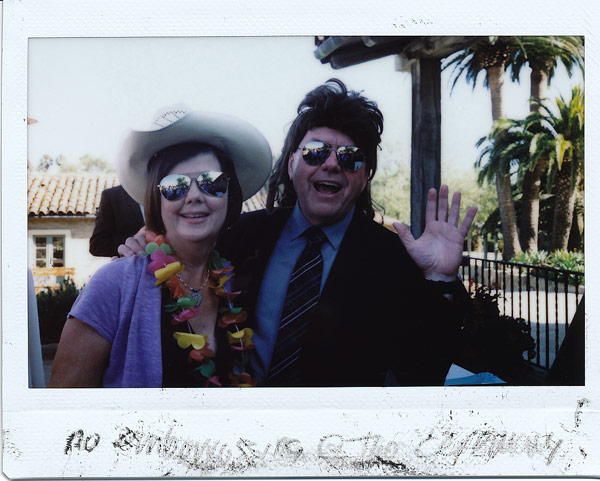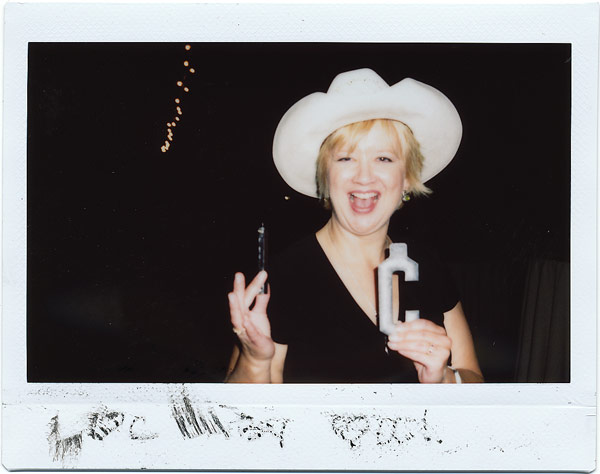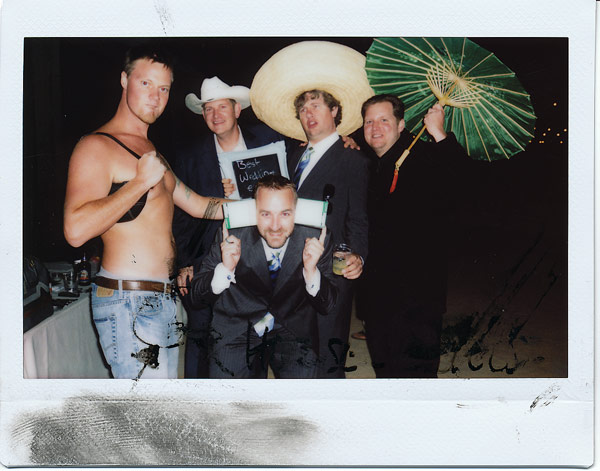 Oh, my heart aches whenever I pull these photos out and see the ink smeared all over the place. Why didn't we test the pens? Why didn't I just know that type of pen would smudge on a glossy surface? I mean, did know. I have a fucking art degree. I have worked with ink on various surfaces before. But I didn't think about it. I had wedding brain. Feverish, horrid, scrambled-eggs wedding brain.
The pens are my biggest, baddest regret from the wedding. Still, I'm glad we did our guestbook this way. Even if not everyone had their photo taken, and even if we have no clue what they inscribed to us at the time, we now have photographic evidence that our guests are total goofy nutballs.
But I guess I already knew that, or I wouldn't have invited them.
_______________________________________________________
Photos 1-3, 5, 6, and 10 by Christina Richards. Photos 4, 7-9 by Aaron Rosenblatt. Last three photos by our guests!