So, I never really talked much about our wedding aesthetic. Or to put it another way, The Details. This is because I thought my Details would bore the shit out of you. On the other hand, I well remember from my own hazy days of wedding planning just how valuable idea sharing is in this community. To that end, I present to you: The Details Series. If you look very closely, you can detect the sarcasm in my use of title case.
I am not showing these to you in hopes that you will leave me some kind of highly complimentary comment that makes use of many more exclamation points than necessary. I'm showing them to you so that if you're considering taking a similar tack, you can see how it turned out for me.
For those of you dear, gentle readers who are disinterested in The Details, I am truly sorry. Allow me to offer you a reading alternative.
Okay then! Let's begin. The first installment in the series is: centerpieces. I know. Try to contain yourselves.
As a brief refresher, I collected clear, green, blue, and milk glass vases from thrift stores, and then we went to the farmer's market and basically bought every kind of flower they had available in every color they had available. I'm not even sure what some of the names of the flowers we bought are, because I am that lame. All I know is that they were flowers, and that was good enough for me.
We also got available "filler." In our case, this was eucalyptus branches and other assorted, like, you know… green leafy stuff. We tried to buy proportionally, but we ended up running out of filler at the end, which was stupid because that was the cheapest of all and we should have just gotten extra in the first place. But one of our groomsmen made an emergency trip to Trader Joe's to pick up some more there, so it worked out.
By the numbers:
95 guests
six 16' tables (two 8' tables pushed end to end)
one 24' head table
60 vases ranging from small to medium width, and short to tall (we tried to keep it under 10 inches, though, so that people could see around them)
2-4 vases in each centerpiece
three centerpieces per guest table
seven? centerpieces at head table (sorry, I was too busy having fun at the wedding to count exactly)
If this is the kind of thing you want to do for your own wedding, I'd highly recommend is to do a trial run a few weekends before the wedding. Go to your local market or flower vendor of choice, and pick up a selection of blooms and filler. Toss them into a few of your vases so you start to get an idea of 1) how everything looks together, and 2) how much it takes to fill the vases you chose. Once you have a handle on that, you can extrapolate forward from your test results to arrive at an estimate of how much of each kind of thing you need to buy before the wedding.
Also, I cannot recommend not caring about flower type enough, because not only does it make arranging a snap, but it makes it easy to substitute another flower should you run out.
Cost:
Vases: $75
Flowers: $140
Labor: $0
__________
Total: $215
We didn't use any kind of foam or tape to help support the flowers inside the vases, because we wanted the assembly to be as fast and easy as possible. It was just vases, flowers, filler, and water. Oh, and some scissors/pruning shears. I forgot about those. We bought four of them. I have no idea how much they cost, and I'm too lazy to look it up. Let's assume they cost a total of $6,934.77. No wonder we were missing a large chunk of our budget. In retrospect we shouldn't have gotten the diamond-studded ones forged from 24-carat gold.
Really, I cannot be clear enough: do not stress over the centerpieces. I know you've heard this before, but Nobody. Fucking. Looks. At. Them. I went to a wedding three weeks after my own, and two days later I came home from work to find a flower arrangement on my front porch. No note. So mysterious! Was it for me? Who could it be from? Who would just drop off flowers at my house? Um, yeah. Turns out it was from the bride. She'd been trying to get rid of her leftover wedding centerpieces and in desperation had abandoned one on my doorstep. I had just been to her wedding, and sat at a table with one of these centerpieces for a substantial period of time, and I did not even recognize the damn thing. I didn't actually even figure it out until she texted me later. Oh yes! Hi! That. Right.
Nobody said anything about our centerpieces to us at the wedding, complimentary or otherwise. Some people did, however, feel compelled to take them. Since I never indicated that the centerpieces doubled as guest favors, I cannot fathom how anybody arrived at the conclusion that they had lucked into a vase free-for-all. And I am still slightly bitter about losing my favorite milk glass bud vase.
So the moral of the story is that your guests will either ignore the centerpieces or steal them. Hence, they DO NOT MATTER.
The good news is, I think that for being inconsequential, our centerpieces turned out just fine.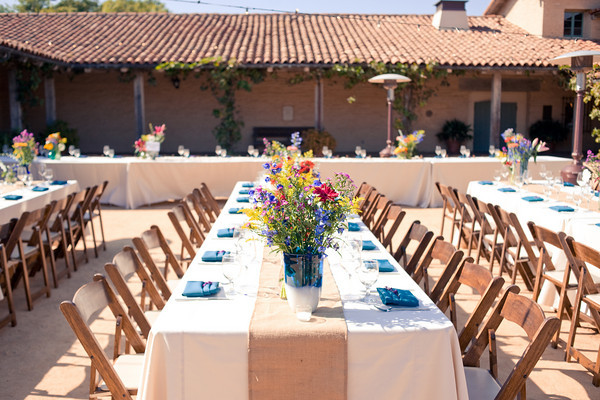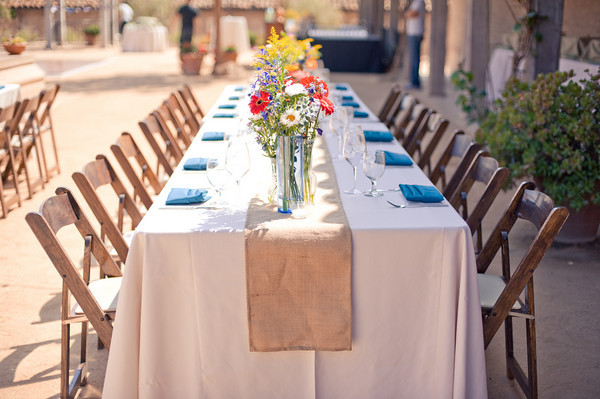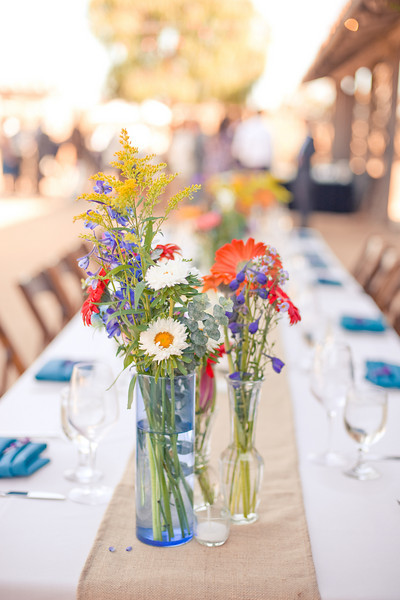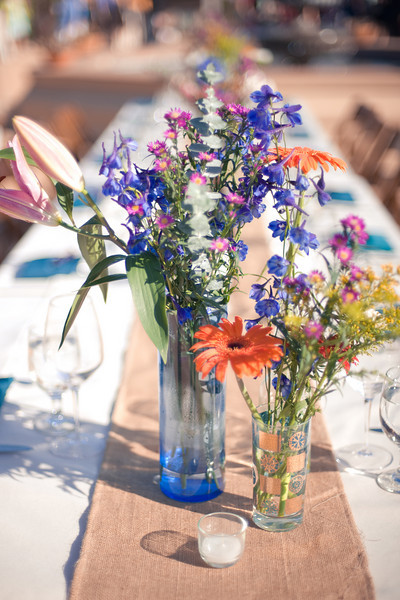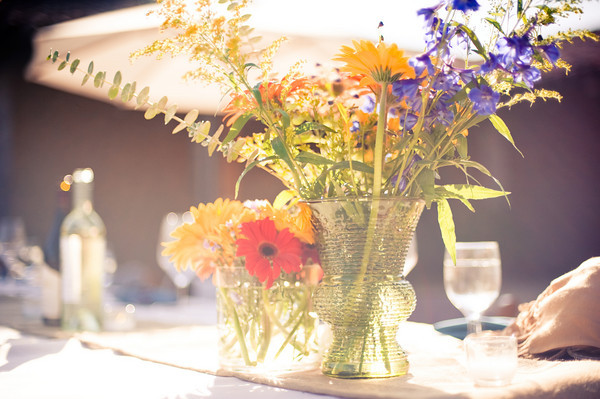 All photos by Christina Richards.