Get this, guys. It turns out that, to kick off this whole wedding event, we're going to have to have somebody marry us. So that's what the big party's about, eh? Who knew!
When the beau and I first broached the topic of our ceremony officiant, it felt like wandering into a large, white, empty room and sitting down in front of a typewriter filled with a ream of blank paper. Where do you even start? The beau and I are rootless, tetherless islands unto ourselves. We have no family nearby, no hometown. We have no shared cultural background. We have no religion by choice — having been raised in two different religions that neither of us practice anymore. In short, we have none of the readymade communities from which many people are able to draw an officiant. All of which not only sounds really heartrendingly sad, but also makes finding the right person to marry us, in the sage words of Avril Lavigne, "complicated."
Yeah, I'll admit I got just a wee bit jealous of other couples that do share a traditional community. From my spot on the part of the hill where the grass is all brown and dry, those couples have it made — or at the very least, they have a clear foundation on which to build. We, on the other hand, were left to do what we do best in situations such as these: stab blindly at the dark and hope a little light shines though.
First, we scanned our mental lists of people we knew for officiant-ability. Family? Um, apparently our respective family trees did not bear any pastor-cousins, devoted siblings, or wise, engaging uncles.* Friends? Well, our closest pals either had other wedding duties, or were terrified of public speaking, or both. Sigh.
Next, I selected names at random from the county's list of local officiants and conducted some good, clean research on them online. From this activity I was able to surmise that professional officiants in our area run anywhere from $300 to $600, at which point I frowned and muttered, "Hmmmm." That was a good bit of money, yes, for someone we couldn't necessarily be guaranteed would actually do a good job.
So then I started asking local acquaintances who'd recently gotten married about their officiants. We followed the tip trail to a woman I became very excited about. She was a warm, kind, and open-minded. She also had a base price of $500.
I received this quote right after Ye Olde Federale Taxe Bummer of '10, and I was like, well, shit. Not to cheapen the value of the officiant — I mean, I know that it takes a lot of work for a one to get to know a couple and to craft a personalized ceremony for them — but five hundred dollars? Really? I remember walking down the street with the beau, making sweeping arm gestures to communicate just how outside of our budget that dollar amount felt. After stabbing at the air with my hands one last time for dramatic effect, I turned to him and said, "Are we sure we don't know anyone who can marry us?"
The beau looked at me. I looked at him. Somewhere, dawn was breaking across a meadow gilded with glistening dew. A young doe raised her head from the tender buckbrush on which she was feeding just as a cluster of meteoroids fell into the Earth's atmosphere, sending arcs of light silently streaming across the deep azure sky.
"Randall," we both said.
Randall. It made so much sense, I wondered why we hadn't thought of it before. Even though I didn't know him before I met the beau, I'd heard the stories. Back in college Randall was an intimidating-looking punk kid with a mohawk. Yet the front door of his house was always — quite literally and figuratively — open, for friends, strangers, and homeless folks alike. Randall was the common denominator in the beau's circle of friends — he's the the sole reason any of them met in the first place. These days Randall is a teacher, a father, and a partner — his wedding was the inspiration for our own. My own brigadier was the one who married them, thus cinching the invisible bond between us all even tighter.
We asked him, and he said yes. He was actually so enthusiastic about being our officiant that he decided to get ordained on the internet instead of applying through the county to be a one-day Deputy Commissioner of Civil Marriages. Just like that, we had an officiant. And just like that, the world rolled over anew. Where I'd once found nothing but the places we didn't belong, I now saw the connections we've fostered along the way. While I'd been busy ticking off the things that the beau and I didn't have, I'd missed the network of support that was right in front of us the entire time.
Your community is not a thing that necessarily looks like anyone else's community. Your community is what you make of it. We know so many amazing people, and that's not just by accident. In our lives we've managed to surround ourselves with people who matter to us, and now I want them to surround us on our wedding day. Randall exudes the values the beau and I aspire to in both ourselves and our relationship — love, compassion, acceptance, and a fine appreciation for a rollicking good time. He just is those things. And so for us, this makes sense. He's an excellent person to help us frame our baby family in the context of our surrounding community.
I believe we're starting out on the right foot.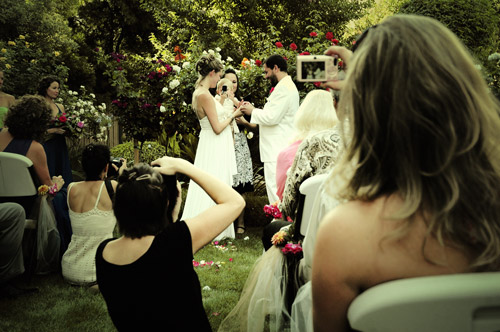 _________________________________________________
* It did, however, bear a creepy step-uncle, a looney aunt, a gossipy cousin, and a supremely bizarre, extraordinarily obstinate grandfather. Hooray!