As we keep plugging away at our task list, I've discovered the only parts of wedding-related planning that really get me hot and bothered anymore are the parts that are entirely unrelated to the actual wedding. Namely, the bachelorette party and the honeymoon.
I've made some real strides lately in planning both of these little nuggets of sheer, unadulterated fun, and let me tell you, they've been a welcome respite from the kind of wedding stuff that makes me want to lie down on the floor and pitch a feet-kicking, eardrum-piercing fit. Since the anticipation of the bach party and the honeymoon is currently making me feel like frolicking around the room in deranged ecstasy before making out with a total stranger* from the sheer joy of it all, I want to TELL YOU ALL ABOUT THEM. You cannot stop me!
THE BACHELORETTE
The bach party will be in August in Palm Springs. PALM EM-EFFING SPRINGS. In what is probably the only wedding blog industry-related thing I will ever do, I am going to attend The Flashdance's once-monthly Sunday night dance party at the Ace Hotel. Yeah, THAT Ace Hotel.** I am beyond giddy about this. I started following The Flashdance's blog before I even got engaged, and I love the mixes he puts up on his site. So this dance party is truly going to be one of the highlights of the weekend.
Other than the dancing, I'm not sure what else we'll do besides drink and lay next to the pool. Except go bowling. And get dressed up in the ugliest, cheesiest thriftstore bridesmaid dresses we can find and go out on the town at night. Holy balls, I think I'm in heaven.
THE HONEYMOON
I've mentioned before that we're going to Vancouver. We were mainly able to do this because the beau used his frequent flier miles accumulated at work to purchase our plane tickets to the tune of $42 each. I know. We totally deserve to be punched in the face.
Once we arrive in Canada, we'll drive to a tiny town called Ucluelet on the west coast of Vancouver Island. The cabins we're staying at have a "bear aware orientation" at check in, and despite delusions to the contrary, this process apparently has nothing to do with familiarizing guests with the full list of Care Bears characters.*** Additionally, these cabins have adopted a green cleaning program in which they use only biodegradable citrus cleaner to sanitize the rooms. I like that.
We're spending three full days on Vancouver Island, for which I'm grateful. I'm sure that after the whirlwind of the wedding all I'll want to do is find the nearest horizontal surface and collapse upon it, which is why a quiet, remote setting with a view will be bliss. Something like this, perhaps.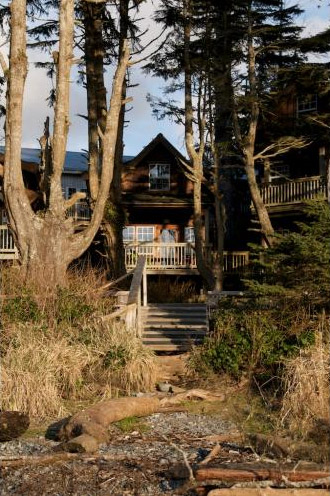 Yes, I believe this will do nicely.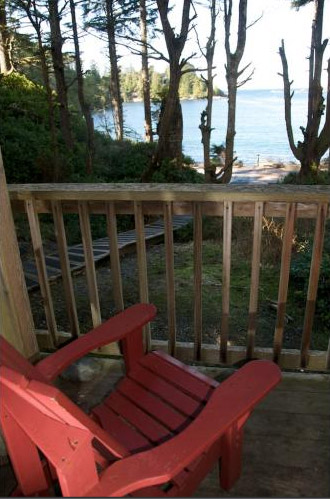 I'm optimistic that by the second day I can find the strength to remain upright for more than ten minutes at a time, so that we can go kayaking around the inlets and enjoy the natural splendor of the outdoors. After we tire of the outdoors, we can retreat indoors to our 2-person Jacuzzi tub overlooking the water. OH YES. THE JACUZZI TUB IS THE SOLE REASON WE CHOSE THIS CABIN.
The yellow hutch may have had something to do with it, though.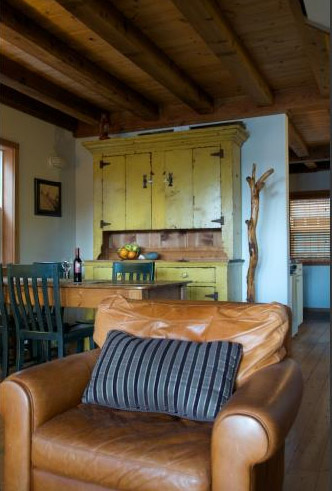 After our time on the island, we'll travel back to the city of Vancouver for four full days of sightseeing and eating very, very well. And ziplining! And eating some more. Seriously, this town has some good eats. The beau and I started a shared Google Map and whenever we find a new restaurant or bar that looks good, we just add it to the mix. So far we've got a bunch of Thai, Vietnamese, Japanese, and Indian joints on the map. I cannot wait to stuff myself full of delicious, delicious food.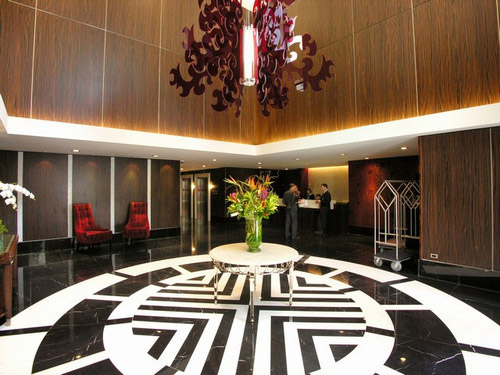 When we're not out roaming, we'll be cozying up in the L'Hermitage Hotel. We love this place because 1) it's right downtown within walking distance of tons of activities, 2) it has a pool and free internet, 3) it has an in-room washer and dryer set,**** and 4) we are not paying for it. That's right. The beau's parents offered this place to us as their wedding gift to us. Yeah. Feel free to punch us in the face again. Seriously though, when they gave us this gift, we were floored. Not only is it incredibly generous, it enabled us to splurge a little on our cabin on Vancouver Island.
So yeah. That's it. I am so. Freaking. Excited.
What's floating your boat these days? What are you planning/did you do for your bach parties and honeymoons, respectively?
_______________________________________________
* Awkward. Sorry, beau.
** Hipsters ho!
*** My parents, as I imagine parents are wont to do, still make jokes involving the cartoons I obsessively watched when I was a kid. I remember one visit home after college when we went for a drive out in the West Virginia countryside, where we proceeded to be ogled by the locals as if we were circus freaks. My mother declared that they were giving us the "Care Bear Stare," and immediately followed it up by shouting at the passenger window, "Care Bears, prepare to stare!" I'm sure it must be a survival strategy; a way of dealing with all the inane children's television programming to which they were exposed. I mean, as opposed to outright lunacy. Right?
**** This is INSANELY VALUABLE for longish trips. Insanely!