Hey. Hey there. Long time, uh, long time no write.
So I was digging around in the admin area of this blog recently (don't ask) and came across this draft post from May of 2010. That… was a long time ago! But… it was practically a finished post! That I never got around to publishing! So that's fun.
You know what's even more fun than an unpublished post? A published post.
So here it is. Taking you back to the pre-bridal-shower days in three, two, one…
---
My mom called me up the other day. She had some urgent bridal shower business to talk about. I put on my frowny face and readied myself for a serious discussion.1
Wanna know what we talked about? Are you sure? Get ready….
Plates.
"Maria,2" she said. "What about the dishes and utensils for the picnic lunch?"
"What about them?" I asked, dumbly.
"I am worried the plates you get won't be heavy duty enough for the food," she said.
"Uh…" I had no idea what to say to this.
"Because you don't want the plates to start bending or folding from the weight of the food," she explained.
"I can… I mean, I can make sure to get some heavy-duty ones," I mumbled lamely, grasping at straws.
"But you don't know what kind of food you're having yet," she reminded me, stridently. We had already established that she is Worried That I Haven't Thought About The Food. And now the Plates. My God, will someone please think of the Plates?
Can I take a moment to point out that he bridal shower is over two months away.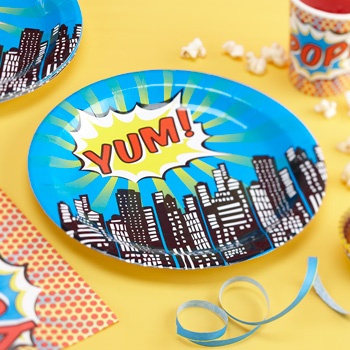 "Have you thought about the color of the napkins?"
Yes, mom. The color of the napkins will be black, in honor of my cynical shower-planning heart.
No, I have to confess, I haven't thought about any of these bridal shower details. None of them. Not a whit. Because for some crazy reason I was convinced it was as simple as going down to the local Whole Foods, looking in the glass case, pointing out some nice-looking edibles, and paying for them. Then, I'd go and pick out some sturdy-looking plates, utensils, and napkins with an eye toward price, not color.  Then I'd take all my stuff home and put it out on tables at the bridal shower and everyone would dutifully chow down on the grub and proceed to throw away the hand-selected plastic kitchenware and then we'd all, somehow, some way, move on with our lives.
But not my mom. My mom has Thoughts. She has Worries. She has Issues. She has Plans.
Plans about Plates. Plate plans.
And you know what? Sometimes, you just have to play along. Because even though you and your partner are the only ones getting married, you're not the only ones involved. And the people involved frequently have different priorities than you do.
Sometimes you have to let things go.
Sometimes, you just have to think of the plates.
---
1 My mother can detect mockery long-distance.
2 She calls me Maria sometimes. No, Maria is not my given name. I've learned in these situations that it's best not to ask.